IOT - Device
8 Noteworthy IoT Devices the Features of which will Blow your Mind
Whether one is a housewife looking for the simple and best products to cook, or a company owner visioning to take the company to the next level. IoT is transforming every aspect of life and it is not just transforming your lives, it is making life much easier and simpler. Here, I am providing you with 8 amazing IoT Devices that have changed our lives in the ways we can not imagine. However, before exploring the blog you must be well-versed with the concept IoT to relate to how it is being used in various devices.
So, what are you waiting for? Start exploring.
IoT Devices List
These are the latest IoT Devices used regularly in our day-to-day life.
1. Amazon Echo
This device connects to the voice-controlled personal assistant Alexa, which responds when called with names – "Alexa", "Echo", or "Computer". This device has a lot of features like playing audiobooks, music playback, voice interaction, making to-do lists, setting alarms, streaming podcasts, etc.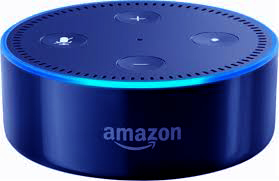 2. August Doorbell Cam
With this IoT Device, you can see and speak with humans at your front door through your phone. Doorbell Cam pairs with all August Smart Locks to easily let guests into your home. It constantly monitors your doorstep and provides 24-hour video recording.
3. Awair
An amazing option for people with allergies or hypersensitive reactions, Awair closely monitors the Carbon Dioxide and humidity levels throughout the day. It also tracks dust levels and VOCs in the air.
4. Belkin WeMo
WeMo is a series of products developed by Belkin that enables users to remotely control home electronics. The series of products include electrical plugs, motion sensors, light switches, cameras, light bulbs, and a mobile app. The agency has a partnership with many other firms that manipulates a variety of exceptional gadgets with one phone app.
5. Canary
This all-in-one home security device captures video and audio and sends alerts to your cell phone. It detects your homecoming and going and you can also view the stay video feed from your smartphone.
6. Chamberlain MyQ
With this IoT device, you do not have to shop for a new garage door opener in order to control it along with your phone. Chamberlain MyQ products permit you to control your present storage door together with your iPhone or Android tool.
7. Ring Doorbells
This is an authentic IoT Device that allows the user to answer the door using your smartphone. It has a rechargeable battery inside and provides Double-Clad Home Network Security to users.
8. Elgato Eve
This line of domestic automation merchandise works with Apple HomeKit to allow customers to monitor indoor air, outdoor weather, power consumption and whether or not home windows and doors are open or closed. The company also offers various other lighting products that can be controlled with Android or other iOS gadgets.
The above IoT devices are some renowned devices that blow your mind with the features they provide. These all devices are proof that how far our technology has come and how far will it still go. However, the companies using IoT and making these devices is still a mystery for many. You will be surprised when you will get to know the level of the companies that are using this platform.
Want to know more about different IoT devices? Ask in the comment section below.